Another Addams themed dinner theater!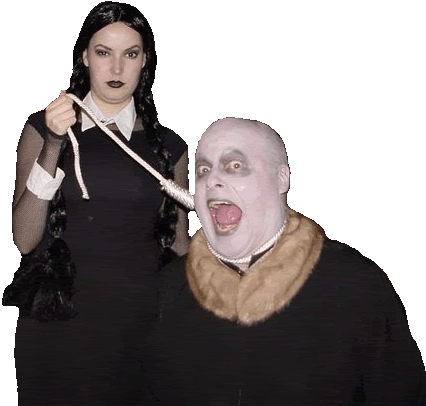 "The Gypsy Players and the Palmdale Holiday Inn are presenting dinner and a murder with the comedy murder mystery spoof, The Addams Family Mystery, written especially for the Gypsy Players by local playwright, John Logue.
They're creepy and kookier than ever and someone in the family is up to no good! It's a family reunion and you, being a member of the illustrious Addams clan, are invited. Wednesday Adams will be coming home from college for the festivities. The fun starts the minute you are escorted to your table and continues while you have an opportunity to bribe suspects and attempt to solve the crime. It's non-stop comedy and excitement by a professional cast.
Join the Gypsy Players at Palmdale Holiday Inn Fridays, Oct. 19 and Nov. 16 for dinner and a show at 7:30 p.m. A three course meal, show and wait staff gratuities are included in the $45 per person ticket price. All performances are held at The Holiday Inn, located at 38630 5th St West (just off the 14 freeway and Palmdale Blvd. exit).
Shows run approximately 2 1/2 hours and reservations are required. Please note that this show is rated PG-13 for mild language and thematic elements and content may not be suitable for children. For more information or to make reservations please call The Gypsy Players at (888) MURDERZ or make your reservation online at www.justmurder.com"
*
Location: Palmdale, CA
Shows run from October 19, 2007 to February 14, 2008.
Check official site for times and prices