This month is so full of Addams Family events that it's difficult to keep up with them all. As always, if anyone managed to attend, they are welcome to send photos/stories of the occasion in to be posted here.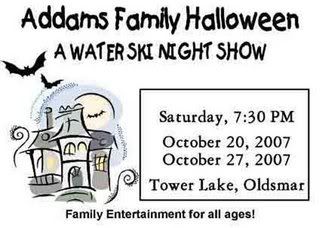 "The Addams Family Water Ski Show: They're creepy and they're kooky, mysterious and spooky. They're the Tampa Bay Water Ski Show Team, a talented bunch of water skiers who build pyramids and perform tricks at 40 mph.

On Saturday at 7:30 p.m., they'll be presenting their rendition of the 1960s television show, The Addams Family. The plot revolves around a sance by Addams family and friends to call back Uncle Fester, who disappeared during Hurricane Ester. The guest list includes vampires, black cats, Captain Jack Sparrow and the Witches of Eastwick.

The free show takes place at Tower Lake near the Oldsmar Flea Market. From Tampa Road, take Racetrack Road north to Douglas. Turn left. The ski site entrance is at the second dirt drive on the left. For information call Lisa Schmidt at (727) 480-9365 or Vickie Wilmouth at (813) 265-9685 or visit tampawaterski.com"

Read more about it