Hello, everyone!
Sorry for the lack of updates this last month. There has been both a surprising lack of Addams Family news since Halloween, and an excess of busyness on my part.
Anyway, I'm back to post up some of the most interesting of my mailbox full of Addams Family google alerts. Starting with this beauty: A Remote Control Hand, looking very Thing-inspired. Of course, the ring and top black thing are obvious distinctions from our beloved hand.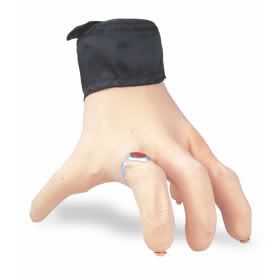 Details:
A larger than lifesize 23cm robotic hand which appears to have a life of its own, just like 'Thing' from the Addams Family. The supple rubber 'skin' gives it a life-like quality as it walks forward. The remote control is a simple on/off device, but it allows the hand to be brought to life surreptitiously, surprising the unsuspecting - great fun!
* 23cm
* Creepy crawling motion
* Requires 3x'AA' batteriesand 1x'9v' battery
You can buy it here